Somehow during this strange semester while wearing a surgical mask, face shield, delivering content online, interacting via email all day long, zooming here and there, trying to keep up with grading again and again…I ended up teaching three different courses about marriage and family. It wasn't in the original plan but it just happened.
It reminds me over and over again how essential our families are to us as individuals and to our entire civilization. I'm never sure how well a job I do at convincing my students – especially during this strange semester full of stress.
"The home is the ultimate career. All other careers exist for one purpose, and that is to support the ultimate career." ― C.S. Lewis
Maybe the root of so many of our problems is that our families are falling apart?
While our society seemed to be falling to pieces every evening on the television screen, for so many reasons, depending on who you were hearing from, I couldn't help but think there was a basic cause. For a long time I have looked at the numbers, the outcomes, the long term effects and I honestly think that almost everything that's wrong with our society right now can be traced back to the fragmentation of our families.
We decided during the decades of revolution (Civil Rights, Sexual, Youth, Women's) that our own personal happiness was the ultimate goal in life. It's in the Declaration of Independence, after all! This goal was so much easier to pursue once our economy boomed after WW2 and we could focus our attentions on inner and subjective desires for satisfaction, instead of external and objective standards of success like surviving the winter or having enough to eat.
Fragmented families started to happen because we decided that other people (our spouses and children) weren't making us happy anymore. Instead of leaning on each other to help and making sacrifices for the sake of someone else, we started looking at our family members as sources of our own happiness. If they dropped the ball, it was time to bail and maybe find a replacement. I need to find someone who will make me happy, not I need to make someone else happy.
What do families in America look like today?
During the current quarantine the divorce numbers in America are twice as high as they were a year ago at this time. What's really discouraging is that newlywed divorce numbers are ALSO twice as high as the were a year ago! Being locked up and facing a seemingly unending crisis together is just too much for many.
People don't just wake up one day and decide to become self-centered. Our culture is one with an economy that's oriented around selling more and more stuff. The prevalent hook is guaranteeing happiness – buy this pillow and you'll get a good night's sleep, feel rested, refreshed (and so much happier the next day).
There are more couples living together than married. People who live together do so for approximately five years – then they either break up or get married. It's not a step before marriage, not an alternative. People are afraid of the marriage commitment, of failing at something so important, at not finding happiness.
Right now, less than 20% of households in our country are composed of a married couple and their children. This is true for 86% of African-American children. This practice is setting these children up for an almost impossible future and brings harm to society as a whole.
"Childhood, after all, is the first precious coin that poverty steals from a child." ― Anthony Horowitz
A majority of children in America will spend part of their growing up years in a single-parent home. On average, children from single-parent homes don't do as well in almost all measures of life (health, school, social, economic, etc.). Every semester, my student learn this yet the overwhelming majority tell me that if they were in a marriage with children and were not happy they would get divorced. Ending marriages for the sake of personal happiness is today a very strong belief and practice here in America.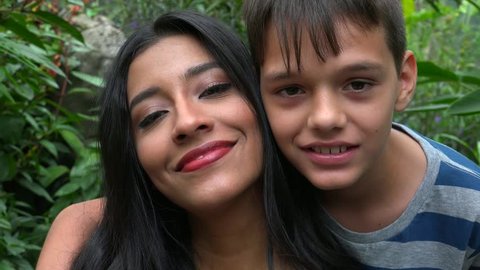 Even though they are working outside the home in more numbers than ever before – many more in college-prepared careers – (more women attend college than men) women still feel the bulk of the responsibility for home and family work. He's not really sharing the burden very well.
In times of social conflict why don't we look at our families as a possible cause?
I think juvenile delinquency has roots in fatherlessness.
I think teen suicide and depression can also be addressed with family counseling.
I think children need both their parents.
I think we focus too much attention on the isolated examples of families that go wrong and use that as an excuse to abandon ship.
I think being a member of a family is hard work – but it's worth it in the long run.
While families in our society are in collapse, we feel helpless. What can I do to stop the flood from spilling over the levee? All you can really do is to keep loving your own family. Sometimes that means keeping your big mouth shut and just loving people in the middle of their mess. Praying for someone you love is different than talking about them to others. Criticizing never does anything good. 
"When everything goes to hell, the people who stand by you without flinching — they are your family. " ― Jim Butcher
Let's do something right now to tighten our gripe on our family bonds
We are approaching the season of family gathering. There will be new precautions in place that prevent us from some of our traditional social customs. That doesn't mean we ought to let this year pass or ignore our family members because it's inconvenient or unsafe. Make some extra efforts to connect and in so doing reinforce these essential bonds. 
How about an extra phone call? Go find a corny holiday card and mail it. (Sometimes I dig up an old birthday card and send at Thanksgiving.) Text some spontaneous photos of your family and send to your extended groups. 
Maybe there's someone in your family who's out on the fringe and really needs a touch, a word, some kindness out of the blue. Take a chance right now and affirm that connection, draw someone back in, plant some seeds. 
"You can kiss your family and friends good-bye and put miles between you, but at the same time you carry them with you in your heart, your mind, your stomach, because you do not just live in a world but a world lives in you." ― Frederick Buechner