"God gave us memory so that we might have roses in December."  ― J.M. Barrie
Have you traveled back to a once familiar place or run into people from your past and experienced a reunion? I remember visiting my hometown and being shocked at how rundown everything had become, thirty years later. Nothing stays the same. I'm certain I looked like a mile or two of bad road myself.  Friends from the past become aged, their once care-free happy faces can sometimes be tinged by hard years. We have all walked long roads, our hometowns have weathered the storms of life. But that doesn't stop the chain of memory that is carried along by the people and places.
"Memory believes before knowing remembers. Believes longer than recollects, longer than knowing even wonders." ― William Faulkner
As the pandemic has slowly begun to pass away, I awaken now and see that I am living in a cobweb of my own self-constructed memories. I was looking at repairs that needed to be made in the guest bathroom and there was another memory hanging on the wall. Not just a photo but an experience.
This made me realize they were strewn all over the house.
Not so surprising, I'm a collector of symbols. I started surrounding myself with meaning long ago. I needed something to balance out my life. So, there are pictures, people, and sayings all around me. I even have a photo of the lady who redid my other bathroom, hanging on the wall in that bathroom – as a tribute.
I'm sitting here typing this out and I can see through the doorway at the album covers hanging on the wall in my hallway. They are of aged rock stars who have played concerts I have attended. Not just the songs but the events of seeing and singing along with each of these artists in person is a memory of nights long ago in my middle age. Sometimes it was a lot of trouble, but I never regretted attending and creating those wonderful memories with family and friends. All that music also draws me back to my much younger days and the radio and the tape deck and my own car and the hot summers a thousand years ago.
In my office at school and here all around me (in every room of the house) there are shelves filled with books. Someone else's story but a remembrance for me as well, a connection to new information, a lesson or mostly a pleasant escape. I just re-read for the third time a fun novel about a college professor enduring so much of the same turmoil that all of us in this profession muddle through. Just as many laughs as the first time.
There's a giant photo portrait of my daughter on her wedding day here before me. She and her husband have been dating and married for almost twenty years. They have twice as many memories as a ten year wedding anniversary might predict.  I remember the day I had been married to my wife for longer than she had lived with her own parents. We were the two adults who knew one another the longest. We must make our times together count, they never last as long as they imagine. 
"There was a long hard time when I kept far from me the remembrance of what I had thrown away when I was quite ignorant of its worth." ― Charles Dickens
How will I pass on what really matters?
I walked out the front door last week and looked down at the coat rack. There was a little cane that my great-grandmother had used. I knew her and was able to spend time with her as a child and young adult. Who do I pass that memory on to? My daughter didn't know her. It's a memory that I guess will stop here with me. I wonder what she implanted in me that I'm unconsciously passing on? 
I'm working on being more conscious and intentional with my own descendants and passing on the legacy of those who have left. I think it's important for people to know how I remember their loved ones. What are your memories that you are passing on?
"But we are never alone. We bring with us the spirits of our ancestors. We are haunted by their demons and protected by their deities." ― William Ritter
These days I'm encouraging my peers to write down what's important to them so that they do have something to pass on – memories of what's important for their own grandchildren and loved ones. One day when they are much older and might need something (or someone) to hang on to when life gets gray and the road dark and difficult. Can you imagine what it would be like to have a volume of experience from one or two of your own ancestors?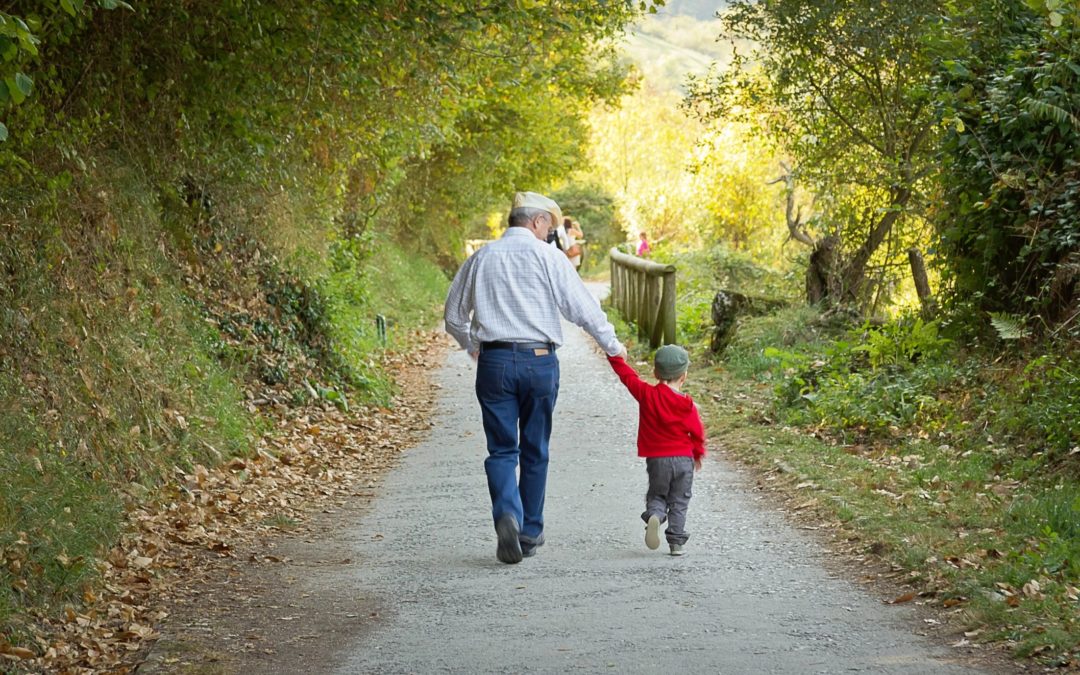 "Happiness, not in another place but this place…not for another hour, but this hour." ― Walt Whitman
Every day, there's something wonderful waiting for you to notice
I was sitting in the burger joint waiting for my children and grandchildren who were visiting from out of town. Remembering things that were working and things that weren't. It's been too hard to have them gone for these past few years. I haven't done a good job of figuring out how to relate well from far away. Technology has been a wonderful tool, but it only takes us so far.
My four-year-old grandson came through the crowded doorway, looked around, saw me sitting in the corner, beamed a big smile and ran right to me. I got a big hug and kiss on the cheek. I only thought I'd been happy in life before that moment. It comes when it does like a flood of starlight and music only your soul can hear.
"I can only note that the past is beautiful because one never realises an emotion at the time. It expands later, and thus we don't have complete emotions about the present, only about the past."  ― Virginia Woolf