"The afternoon knows what the morning never suspected." ― Robert Frost
Anyone out there experiencing signs of the afternoon arriving?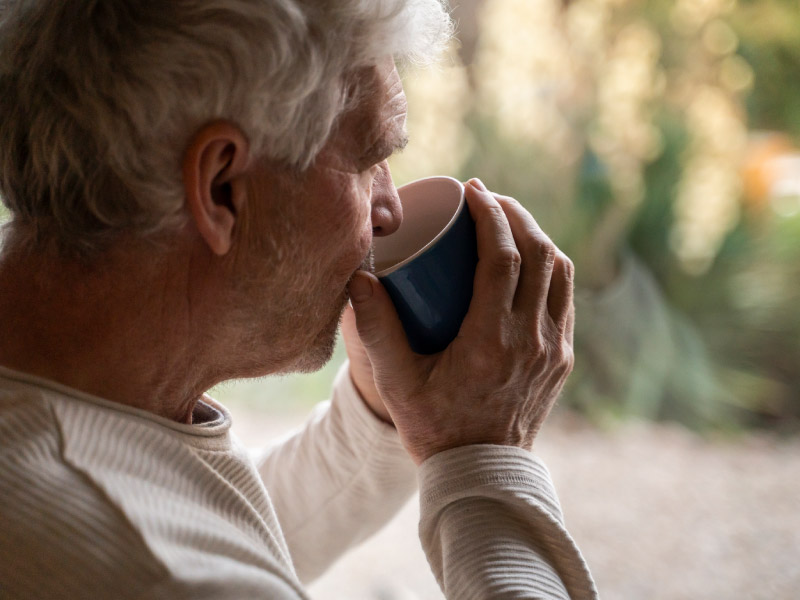 I drink a cup of coffee several times a day now. I never used to do that. Never. I sometimes wonder if I'm unconsciously paying homage to loved ones recently gone to heaven. My young adult years were spent surrounded by coffee guzzlers. My kids handed down their one cup at a time coffee maker to me, that helps as well.
I know that a lot goes on in our unconscious. There's not enough space to pay attention to everything at the same time all at once.
The other day I was showing my yard guy a little brown box that had been delivered and was sitting on the welcome mat. It contained my Pill Pack. I think it's the greatest invention since air conditioning. Every day's dosage all packed in a convenient little plastic envelope. No more trying to sort out all those pills into narrow weekly squares – and search for stragglers on the floor. I don't even really have to think about it.
While I was boasting of the ingenuity of it all, he couldn't get past the fact that I was having to take all those pills every day. What was wrong with me, he must have been thinking. I didn't appear that infirmed to him. What does he know!
"Wisdom comes with winters" ― Oscar Wilde
What did happen to me? I woke up one day and found myself swallowing a handful of pills. Now I'm choking down my fruits and vegetables in capsule format. When I went from wearing reading glasses to having to have a prescription I panicked and asked my doctor what went wrong? Was I not drinking enough water? Too much TV? Air pollution? She gently put her hand on my shoulder and said, you're just old. 
What made you realize you were getting older? Not necessarily "infirmed" but, what were some of the memorable milestones along your journey of life? Driver's License, first real paycheck, bringing that baby home from the hospital, getting glasses, having teenagers driving off in your car, starting to think about fiber, medical check-ups with uncomfortable issues?
"You don't stop laughing when you grow old, you grow old when you stop laughing." ― George Bernard Shaw
Do you ever feel as if you're trapped in your routines?
Last week I realized that I'm getting religious about watching the news. Now THAT sounds like something old people do. I wake up and turn it on and I get home and turn it on. Since I'm watching the same channel – it seems like they are replaying the morning stories at night! There's not as much really happening as the 24-hour constant flood of information would have us believe. That can't be true!
Turning off the TV is a good habit. Turning on some music is always a better choice. Put on some acoustic guitar and see where your mood goes. See how much more gets accomplished when you're not trying to read the Netflix subtitles! Always use your routines to enable more freedom in your life. Routines allow you to be more conscious about what matters. When you keep saying "no" because you have to follow some rigid pattern – you've missed the point.
"In the shapeliness of a life, habit plays its sovereign role."  ― Mary Oliver
We need routines to make sense of living and to get things accomplished.
Simple things like brushing our teeth and important goals like graduating from high school are accomplished because of routines. Very young children practice routines and in so doing learn, bit by bit, about life and are shaped for the next stage. As adults, we use routines to practice automatic thinking – so we can dream and solve problems while we're driving to work each day. That feeling that we're chipping away at daily accomplishments is called "perceptual effectiveness" – routines help us to at least feel as if we're moving in the right direction.
It doesn't seem to cool off until after 7pm down here in Houston for at least half the year. And yet, I keep buying more plants to replace all the stuff that froze to death the last two winters. As I was putting a few more tropicals into the back tonight all I could think about was that no one is ever going to see this but me. After we discussed my pill intake, Mr. Perez, who takes care of my yard, stood in my back garden and remarked how relaxing he thought it must be to sit here in the evenings (and listen to the new neighbors with lots of kids cool off in the pool next door). Isn't it funny how different two people can see the same thing?
Why do you think we become more reflective as we age?
"Reflect upon your present blessings — of which every man has many — not on your past misfortunes, of which all men have some." ― Charles Dickens
Time is moving faster and faster. A very pregnant co-worker just told me that as miserable as she feels in her final days before delivery, it won't last long. What a great perspective. I told her that when she gets old like me, time is really going to fly past. That sand slipping through the hour glass starts to speed up as it nears the end of the funnel.
Getting older reminds me of all that I didn't get accomplished. That list of grand projects is probably not going to happen. Life got in the way. Several years ago, during the chaos of the pandemic, I started posting notes throughout the house. The overwhelming sense of the world, new ways of doing old business and increasing social disconnection caused me to want to be more mindful of people and situations. It became a way to better organize my thinking and feeling.
So many projects never got done. But then, there are all these people that deserve some attention. Maybe that's a more glorious way to spend today? Who needs some of your attention today? What's keeping that from happening?
"The hardest choices in life aren't between what's right and what's wrong but between what's right and what's best." ― Jamie Ford
Are you still living a life that's filled with choices?
Our ruts often keep us from seeing the far horizon and the infinite choices we could strike out for. Life isn't supposed to be what we expected. I think it should be more peeking around the corner than that. Sure, there's unexpected catastrophes like the price of gasoline and someone just had a stroke.
Use routines in your life to liberate your dreaming and doing
Make just today count for something – don't waste it in worry or regret, literally think about what/who needs you right now.
Don't let your life live you – make wise and reflective choices when you can. Think always about the people in your circles that need a word of hope today.
"Happiness, not in another place but this place…not for another hour, but this hour." ― Walt Whitman