I was driving through the Texas Hill Country the other day. We were supposed to be heading to a specific destination. I was probably wandering the back roads too much. I know I was wandering around in my mind with chapters of memories evoked by the scenery. The Hill Country is a unique part of the state and very different from the low country of Houston where I now reside. As we drove up the winding roads, the memory machine started to crank up.
"Remembrance of things past is not necessarily the remembrance of things as they were." ― Marcel Proust
There were a few cedar trees in my sights. When the seasons would change, the cold winds would blow down through the hill country and carry he scent of the cedars. An unmistakable reminder that it was time to look for your long sleeves. I remember even a few trips to cut firewood for winter with noisy chainsaws. Back then you couldn't buy it at the grocery store.  There were a few Christmases that we trekked off to the north and chopped down our own cedar to use as a tree to decorate. Apparently no one in our family had any allergy's. Doesn't your memory also come with an assortment of smells?
The Hill Country is where my distant relatives lived. During my childhood, we went back there to hunt, fish, camp out and have reunions. As I grew up, I could see that there were branches of the family that lived a very different life out in these small rural towns. In my mind they were indelibly linked with animals, hard work and dirty pick up trucks. My larger family liked to read, play music and name their children with the same first letter of the alphabet. We seemed to have had an unusually large percentage of introverts in the clan. It was always interesting to see what kinds of personalities these people searched for to marry. What kinds of characters are in your family? How did that aunt help turn you into you?
"You should always be taking pictures, if not with a camera then with your mind. Memories you capture on purpose are always more vivid than the ones you pick up by accident." ― Isaac Marion
The past few days I was at a beautiful lake. My Hill Country memory also has a lake in it – two. We grew up first on Canyon then mostly on Medina Lake. South of the hills but fed by rivers (Guadalupe and Medina) that flowed through them. It's impossible to stare into the bright waters of a Texas lake and not see, hear and smell a hundred memories from days on lakes of yesterday. It was so quiet in the mornings, until that boat with loud boom boom box trolled along past the tranquility. Old farts like me don't always have the groovy frame of mind at 8am. Isn't there a body of water in your treasure trove of memories?
It was on the Frio River that I spent summers at camp with my friends from church. That's the coldest river in Texas. The most beautiful spot in the world. We grew up together in so many ways along those banks and in those cabins under the cypress trees. The most significant decisions in my life were made during some of those hot summers under that big open air tabernacle.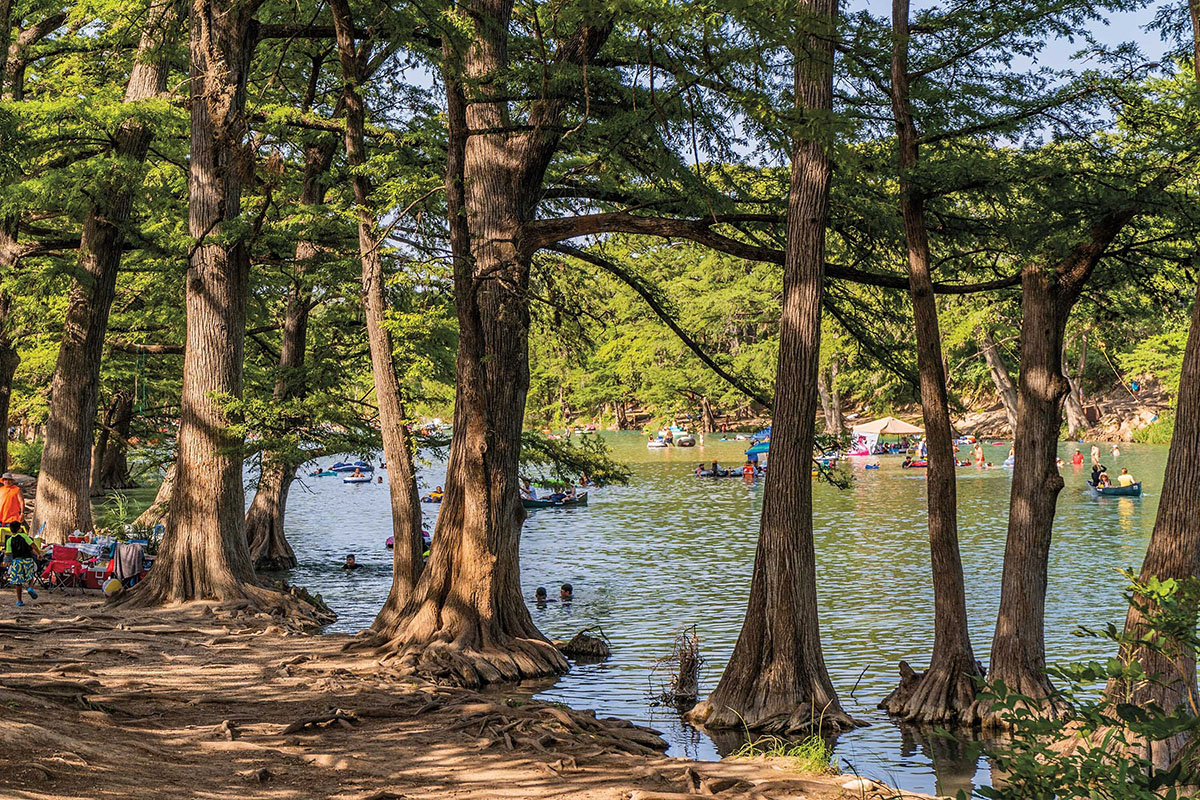 Growing up I spent different seasons in the Hill Country. I've sat in deer blinds while it rained, played on the tangled trails left by sheep, floated and splashed down bright green rivers, and camped to the music of frogs and crickets under magic skies of lights deep in the heart of Texas. Down here in Houston there doesn't seem to be much seasonal variety. It can get cold, hunting during deer season. The summers are hot. You want to be near a water source to jump in and stay cool. Fall is magic with that cedar in the air, cold fronts down from the Panhandle and the Hackberry's lose their leaves. When the weather changes, what changes in your own treasure of memories?
"If it don't kick, bite, tear, burn, sting or maim – it ain't from South Texas." ― William Jack Sibley
There are important lessons about life I learned during all those trips to the Hill Country. Try to sit in the middle seat, that way you won't have to jump out to open and close the gates while traversing the dirt roads through the ranchlands. When you pass by a bathroom, use it, even if you don't have to. Meals ALWAYS taste better when cooked over an open fire. When watching older relatives playing dominoes around the card table, don't stand too close to those who are chewing tobacco. Use a walking stick to rustle the brush along the way as you walk – hopefully scaring off any snakes. Only the homesick play radios and recorded music while out in the open. Those ready to go native make their own music. What sounds do your own memories make? What songs come up and take you back a thousand years to when the cares of the world and yet to arrive?
Is it possible that a place gets into your soul like red dirt into the bottoms of white tube socks? The sound of fiddle music, burning branches from a bonfire, dark night skies as bright as heaven, and even the wind whipping through your hair as you race down the lake on a fast boat – all is deep inside me. When I sit on a lakeside porch now, in my reclining years, it comes back to the surface, like those fish early this morning, hitting the top of the water.
"Every man's memory is his private literature." ― Aldous Huxley
Where is your place of memory? Is it a part of the country? A house, school, church or town? Is it a time of year in a part of your past? Memories are wrapped up with sights, sounds, smells and people that produce all kinds of feelings. I don't think you have to go back and visit, I think it's there inside you and it's providing you with fuel and treasure that continues to carry you into all your days to come.
Take some time sooner (rather than later) to be quiet. To be still. To listen and remember. All those people and events really do still matter.
Whisper a thank you as you take another turn around the hills.
"It is the time you have wasted for your rose that makes your rose so important." ― Antoine de Saint-Exupéry