"Perhaps all the good that ever has come here has come because people prayed it into the world." ― Wendell Berry
Americans have a strong belief in God
Here are some findings from the Pew Research Center on religion in America:
The vast majority of Americans (90%) believe in some kind of higher power, with 56% professing faith in God as described in the Bible and another 33% saying they believe in another type of higher power or spiritual force. Only one-in-ten Americans say they don't believe in God or a higher power of any kind.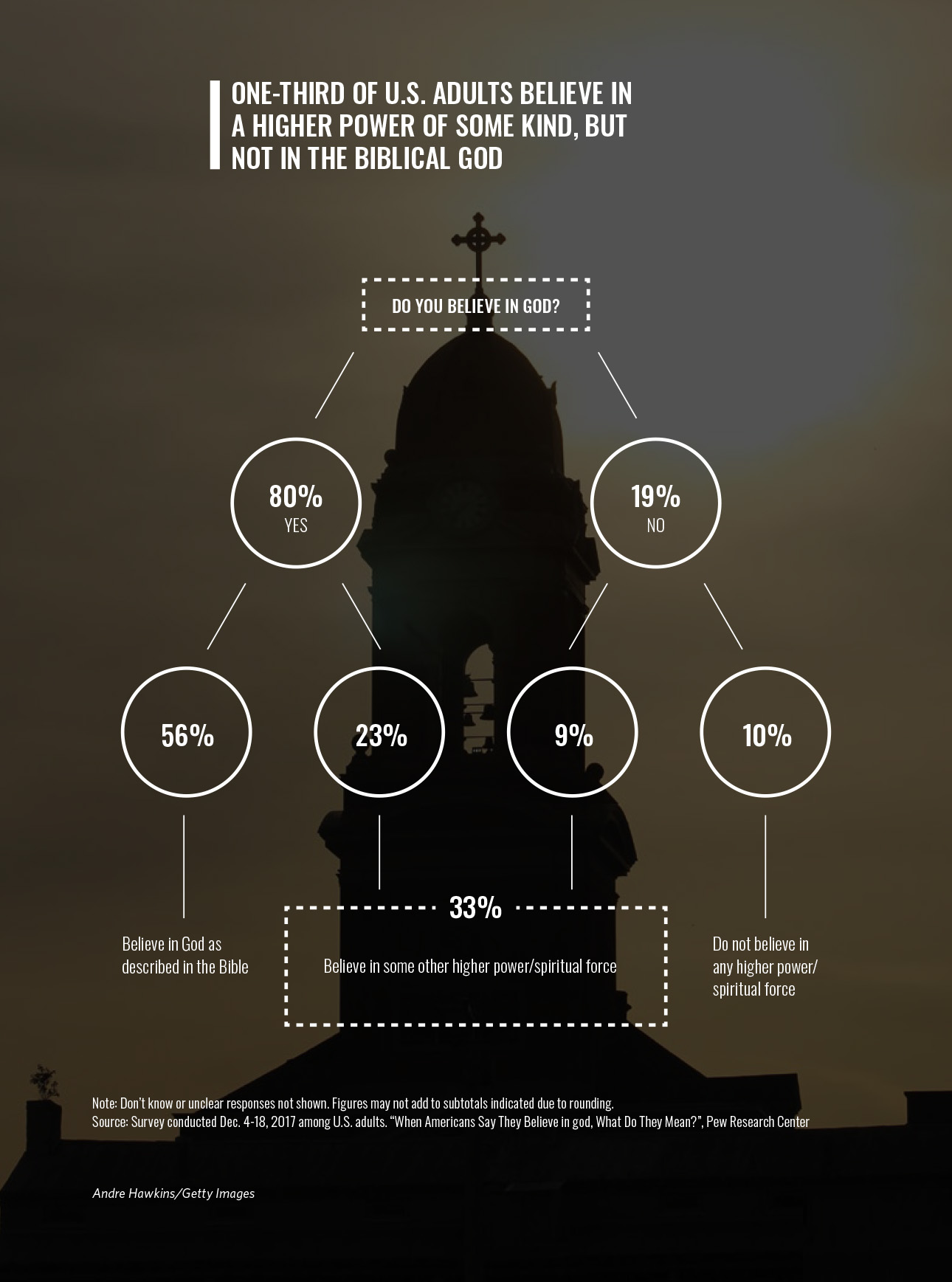 Americans also believe in and practice prayer
[Out] of 102 countries examined for frequency of prayer by Pew Research Center, the U.S. is unique in that it has both a high level of wealth ($56,000 per-capita gross domestic product in 2015) and a high level of daily prayer among its population.
A Pew Research Center survey conducted in 2014 found that 45% of Americans – and a majority of Christians (55%) – say they rely a lot on prayer and personal religious reflection when making major life decisions. The same survey found that 63% of Christians in the U.S. say praying regularly is an essential part of their Christian identity.
A large portion of Americans believe in God and communicating with him on a regular basis. I do too.
"Believing takes practice." ― Madeleine L'Engle
Have you and God been speaking lately? What has he been speaking to you about? What have you been speaking to him about?
Last week I was feeling frustrated and overwhelmed. In my prayer (I also write these down so I can keep track) I asked God to help me figure out how I was going to manage the next chapters of my life. I was thankful for all of the ways that he had helped me – in very tangible ways. I named my blessings one by one. But, the bottom line was, help!
A few days later, instead of an "everything is going to be okay" answer – I got some bittersweet news that would mean the next chapter of my life was going to be even more difficult than I could have imagined. What kind of answer to my prayer was that?
"The wise man in the storm prays God not for safety from danger but for deliverance from fear." ― Ralph Waldo Emerson
A friend sent me a bird feeder to add to what I've already had hanging up. It's been fun to watch the squirrels work so hard to try and get at it. I've been wondering why I didn't have more birds these days – then realized, those blasted squirrels had taken over the neighborhood and run all the birds out. It's no longer safe to nest around here.
But the other evening there was a loud and exuberant birdsong in the trees at the back of the house. I craned my neck again and again to try and see which kind of bird it was. It was full of joy and went on and on. Happened again the next evening as I sat and wondered about my answer to prayer. That prayer that seemed to have gone off the rails.
"In Gethsemane the holiest of all petitioners prayed three times that a certain cup might pass from Him. It did not." ― C.S. Lewis
My Bible study group at church is going to be studying the New Testament letter to the Hebrews next. I will be doing the teaching. In preparation I'm reading it in several different ways. First I went over the whole letter as an outline. I read it in different translations. Next I focused on all of the familiar verses that have meant much to me over the years. Right now I'm reading it slowly, sentence by sentence, to see how God might use it right now speak to me.
So, there I was, downcast about the latest bad news and not very hopeful about my future life. I was starting to slowly look at Hebrews while that bird was going to town out in the back. And there it was…
In the first sentences of Hebrews, the writer explains that God used to speak to his people through his prophets. Now he has spoken to us through his Son, Jesus Christ. That brought to my memory some of the last words Jesus spoke to his disciples as he was preparing them for his leaving,
The Father is sending a great Helper, the Holy Spirit, in My name to teach you everything and to remind you of all I have said to you. (John 14:26)
So that means God doesn't only use intermediaries anymore, He speaks directly to his people now. So when I sit there reading Hebrews, hearing that bird singing to Kingdom Come, I open my ears to hear…
In Chapter 2 of Hebrews the writer warns, "That is why we ought to pay even closer attention to the voice that has been speaking so that we will never drift away from it."  Remember, in this reading my goal is to listen and hear from God. Well, while I'm busy worrying about my future (feeling sorry for myself, boo hoo) I am called to remember all of the ways God has taken care of my life so far – why do you think he's suddenly going to stop? Go back and look at all you've written down, read some of these very verses you hi-lighted years and years ago and remember how God provided for you. What are you so worried about?
"We tend to be preoccupied by our problems when we have a heightened sense of vulnerability and a diminished sense of power. Today, see each problem as an invitation to prayer." ― John Ortberg
Pay attention to the voice that has always been speaking to you.
And if you're still too thick in the head to get it, I'm going to send a very loud bird to sing and sing and sing in the middle of the squirrel kingdom to remind you not to worry or be afraid.
Look at the birds in the sky. They do not store food for winter. They don't plant gardens. They do not sow or reap—and yet, they are always fed because your heavenly Father feeds them. And you are even more precious to Him than a beautiful bird. If He looks after them, of course He will look after you. Worrying does not do any good; who here can claim to add even an hour to his life by worrying?  (Matthew 6:26-27, The Voice)
Seek first the kingdom of God and His righteousness, and then all these things will be given to you too. So do not worry about tomorrow. Let tomorrow worry about itself. Living faithfully is a large enough task for today.  (Matthew 6:33-34, The Voice)
What should you be talking to God about right now?