My First Concert Since the Pandemic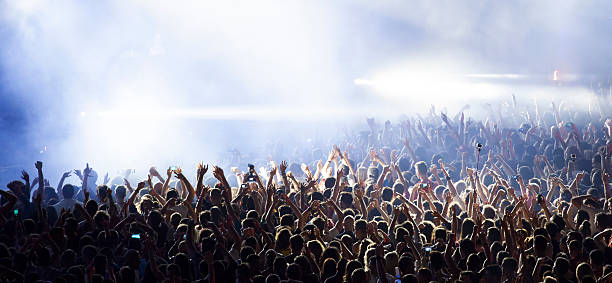 The outdoor concert venue slowly filled as the evening light faded. Before too long we were surrounded by a great horde of Millennials all standing, talking in small groups and listening to the vibrant music. Only a small percent were actually focused on the music. They had gathered early up near the stage. This portion of the crowd bounced up and down to each song, waving arms in the air, singing right along. I even saw a brave girl or two crowd surf over the heads of this part of the horde. They were like every crowd I had seen or been a part of during all my years of rock concerts. Of course, as an aging adult, attending classic rock shows, crowd surfing was out of the question. I doubt most of us could even raise our arms over our heads for long. Inflammation and arthritis having taken more of a toll as each year passed.
"Don't let anybody put you in a box. You are much more than a millennial…much more!"  ― Jerry Gladstone
My generation doesn't like to stand for long either, much preferring the seating away from the mosh pit. On this evening we were kept safe from the horde in a caged off seating area in the back. I could see everything with very little risk. It was the perfect spot. We did have some Millennial females sneak in to our enclosure. It's a strange phenomenon I experience at almost every concert. Young women, who I assume have paid a lot of money for their tickets, and then sit near me and talk through the whole show. Talk very loud so that they can be heard by each other over the blaring music. Describing that mole that needs to be removed or the terrible new boss at work. Happened again this night. I don't get it?? I watched one young lady come over and say hi to a couple on a date sitting in front of me. She then proceeded to stand there and talk (shout) to the girl the rest of the evening. The poor guy was left all alone. I thought they'd been having a great time until the blabber mouth showed up. I still don't get it??
In fact, as I surveyed the horde in front and around me, I noticed that the attentive crowd up near the stage was only about one-fourth, if that, of the audience. The rest of the three thousand plus attending was standing around in small groups, chit chatting as if they were at a wedding reception. Most only glanced up at the stage periodically. It took a very familiar song to get everyone to jump around, sing along and become more drawn into the music. Then it was back to the mingling. Maybe the Millennials have been shut away too long and desperately needed the social interaction (more than the music)?
"No matter how different you are, no matter how different you think, no matter how extraordinary or how ordinary you are, when you get on a train, you will go in the same direction as everyone on that train! That's what happens to you if you mingle with the crowds! The crowd always takes you where it goes!" ― Mehmet Murat ildan
When people used to smoke more, a mellow song would start and the lights would dim and then a magic moment started.  People all around would pull out their lighters and hold up the flames above their heads. This may have evoked much deeper memories of the gathered tribe lifting their torches to the inspiration coming from a leader telling a story or an epic song shared by all. On this night I noticed that when a special moment arrived, the phones went up. People were recording the experience. But this looked to me to be producing the exact opposite effect than the one I remembered. The light was on the little screens cast back on each person holding up a phone. Instead of a social experience of raising up a collective flame, it was a self absorbed moment, directing attention away from the experience we were all having and up to a little private screen – rewarding each person with their own spotlight. How weird we've become.
"Normal consumers declare rock to be dead whenever they personally stop listening to it (or at least to new iterations of it), which typically happens about two years after they graduate from college." ― Chuck Klosterman
It was a great night of music and people watching. My favorites. The weather cooperated, even here in heatstroke Houston. It was a beautiful sunset after the cool off of rain earlier in the afternoon. Even more of a big deal because it has been such a long time since any music has come to town. I was also very encouraged to see Millennials out having a really big social experience. We hear reports about people staying home, working digitally, living a distanced life, dropping out of organizations like church, etc. Attending this big night together told me that people, no matter what demographic they fall under, still like to gather and have fun with great music all night long. It was a good sign for the future, no matter what the TV is telling us.
"Music needs to be felt to be heard." ― Anthony T. Hincks